[텐아시아=태유나 기자]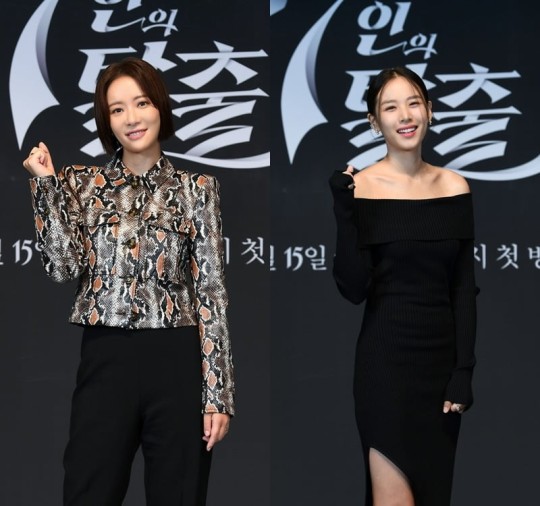 'Escape of the Seven' Hwang Jeong-eum, Jo Yoon-hee./Photo provided by SBS
Another controversial work was born. This is writer Kim Soon-ok's new SBS Friday-Saturday drama 'Escape of the Seven'. Viewers have been complaining since the first week of the broadcast as it is a more unconventional drama than 'Penthouse', including child abuse, attempted murder, adultery, assisted dating, underage childbirth, and torture. Meanwhile, the acting of Hwang Jung-eum and Jo Yoon-hee, who attempted to play 'the first villain', was also on the chopping block. Although it was a challenge to break away from the existing character, it was said that the exaggerated facial expressions and tone of voice broke the immersion of the play.
Hwang Jeong-eum and Jo Yoon-hee have something special in common in 'Escape of the Seven'. This is because both of them are returning to their jobs for the first time after going through major changes in their family lives, such as reunion and divorce, and are challenging villains for the first time since their debut.
'Escape of 7 People' / Photo provided by SBS
'Escape of 7 People', in which two people appear, is about the struggle for survival of 7 villains involved in the disappearance of a girl who disappeared through a tangle of lies and desires, and the bloody punishment meted out to them. A picaresque (work in which villains are the main characters) revenge drama depicting It attracted attention because it was the third collaboration between writer Kim Soon-ok and director Joo Dong-min, who made the 'The Last Empress' and 'Penthouse' series hits.
Unlike Eom Ki-jun, Yoon Jong-hoon, and Shin Eun-kyung, Hwang Jeong-eum and Jo Yoon-hee are actors who are working with writer Kim Soon-ok for the first time. Geum Ra-hee, played by Hwang Jung-eum, is the talented and bold head of a drama production company. She considers money and success as the greatest values in life, and is a self-righteous woman who searches for the daughter she abandoned after 15 years in order to inherit a huge inheritance. Jo Yoon-hee is a person who spreads strange rumors around the school to avoid being discovered about her affair with the son of the chairman.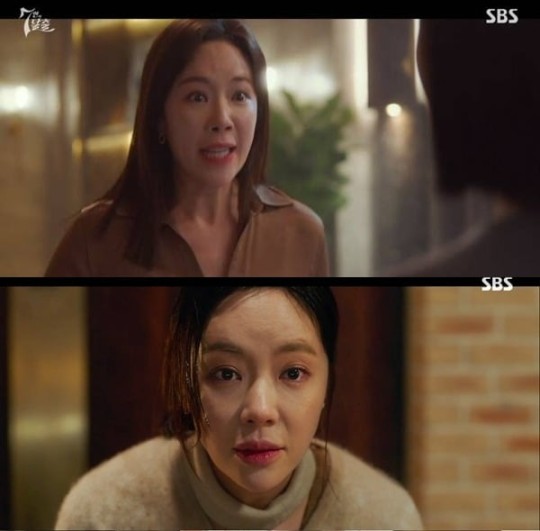 Photo = SBS 'Escape of the Seven' broadcast screen.
As it was his first challenge as a villain, his determination was extraordinary. At the previous production presentation, Hwang Jeong-eum was a fan of writer Kim Soon-ok. I received a phone call while only watching the author's work on TV. It was just one word. He asked me what I was doing these days and asked if I wanted to play a villain. He answered 'yes' in just one second "and"was changing the baby's diaper at the time. He said he was very grateful that he contacted me right when I was in desperate need of acting "."Jo Yoon-hee
was actually a villain, so I hesitated at first. I wanted to live a good life. In everyday life and in roles. I wanted to be an exemplary mother to my children, so I wanted to do everything nice and kind "but"I wasn't confident if I did bad things alone, but it was so much fun when 7 of us did it together. It seems like a good fit. He stated that he will continue in the future "."Photo = SBS 'Escape of the Seven' broadcast screen.
But did he suddenly wear the inappropriate clothes of a 'villain'? There was a series of comments saying that the acting of Hwang Jung-eum and Jo Yoon-hee, who had never been controversial about their acting skills, was somewhat awkward. I wanted a presence like Kim So-yeon in 'Penthouse', but the reality was an exaggerated voice and an awkward expression. Above all, Hwang Jeong-eum is a character with many emotional scenes, including assaulting her own daughter and shedding false tears. However, it seemed like he was consistently using evil, which was disappointing.
Jo Yoon-hee also does not have a lot of screen time, but the scene where she threatens a student when her affair is discovered and the scene where she shows her greedy side for a diamond bracelet did not make enough of an impact to break her previously discreet image.
'Escape of the Seven' is a dramatic drama that follows the 'Penthouse' series, which recorded the highest viewership rating of 29.2%, but the response from viewers is not as good as before. The reason is that beyond the provocative material, there are so many uncomfortable elements to watch, such as aided dating and childbirth at school. The viewership rating is also at 6%, which is lower than the first week of Season 1 of 'Penthouse'.
The reason why 'Penthouse' was able to achieve a vertical rise in viewer ratings was due to the passionate performances of 'villains' such as Um Ki-jun and Kim So-yeon. In a situation where there is no villain with as much presence as Kim So-yeon, the acting of Hwang Jung-eum and Jo Yoon-hee seems even more disappointing.
Taeyuna Ten Asia Reporter youyou@tenasia.co.kr rrr