[스포츠조선닷컴 김준석 기자] While Korean tennis star Kwon Soon-woo, who competed in the Hangzhou Asian Games, was embroiled in controversy over his bad manners, 'malicious comments' were poured into the SNS of singer Yubin, with whom he is in a public relationship.
Kwon Soon-woo lost 1-2 (3-6 7-5 4-6) to Kasidit Samrez (22, Thailand), ranked 636th in the world, in the men's singles match at the 2022 Hangzhou Asian Games held on the 25th.
After the loss, Kwon Soon-woo's manners became controversial. After the game, Kwon Soon-woo could not control his anger and hit his racket on the court several times.
Afterwards, he was caught hitting the chair two more times as if he was angry. In particular, Kwon Soon-woo left the court without even paying attention to Samrez's handshake.
In tennis, where manners are important, Kwon Soon-woo's behavior became controversial. In the end, Kwon Soon-woo is evaluated as having lost both the game and his manners.
This image of Kwon Soon-woo spread rapidly through social media. Hong Kong's South China Morning Post also reported that Kwon Soon-woo's image on Weibo received more than 6 million views.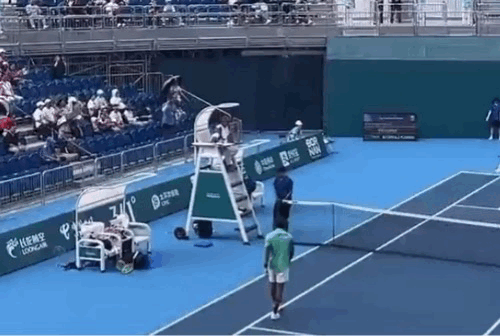 Video = Weibo captureIn the controversy over Kwon Soon-woo's bad manners, sparks also flew to his girlfriend, Yu-bin.
Not only domestic netizens, but also overseas netizens flocked to Yubin's SNS and left comments such as "Just sort it out", "Run away quickly", "I'm worried why my sister is dating a man like that", "Have a safe break up", etc. showed a reaction.
Yubin, born in 1988, debuted as a member of Wonder Girls in 2007 and was loved as a representative second-generation K-pop girl group by releasing hit songs such as 'Tell Me', 'So Hot', and 'Nobody'. In 2020, he left JYP Entertainment, with which he had been with for 13 years, and established Le Entertainment and set out on his own.
Kwon Soon-woo was born in 1997 and is 9 years younger than Yu-bin. Currently ranked No. 1 in domestic tennis, he has been selected as the Player of the Year by Tennis Korea for three consecutive years since 2019, and is the first Korean player to win the singles title twice at an ATP tour tournament.
rrr